Amanohashidate in detail
Located two hours north of Kyoto, Amanohashidate is areas to a "another Kyoto" that many do not yet know about. This is "Kyoto by the sea," and Amanohashidate. This is an area blessed with rich natural environs, with the continental culture having traveled here via sea routes. Amanohashidate was one of Japan's earliest areas to develop a thriving culture. You might say that this is where Japanese culture got its start. Here you will find elements of Japan that are still relatively unknown to the world at large. At the center of this area is Amanohashidate. Given its natural and almost spiritual beauty, legends say that the gods who created Japan left a ladder behind during the process of that construction, and that ladder became Amanohashidate. The rare views you will find on offer here are emblematic of Japan and, alongside Matsushima in Miyagi Prefecture and Miyajima in Hiroshima Prefecture, are held to be in the three finest scenes in Japan. The Amanohashidate was held to be a bridge linking the heavens and the ground, and it has been a place of relaxation since ancient times, where city dwellers came to unwind. Many Japanese have enjoyed coming here since time immemorial.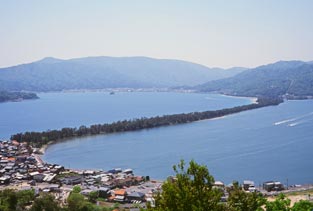 "Amanohashidate" Tango KYOTO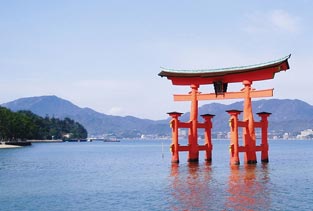 "Miyajima" Aki HIROSHIMA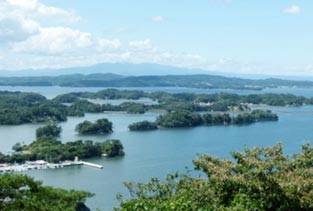 "Matsushima" Rikuzen MIYAGI
Convenient access to other sightseeing spots
We are also close to Amanohashidate Station, and you will find historic shrines and temples nearby like Chion-ji Temple, Motoise Kono Shrine, Naria-ji Temple, and Amanohashidate Shrine. Further, you can take a lift or cable car to the mountaintop and see spectacular views from Amanohashidate Viewland, Kasamatsu Park, and other touristic destinations. In summer, you can enjoy bathing in the beaches of Amanohashidate. Trek further and you can reach the projecting boathouses of Ine, a style of architecture seldom found anywhere else. Insert map and photographs (seasonal views of Amanohashidate)
 History
Our inn dates back to 1690. At that time, Monjuso was a small shop serving rice cakes in front of the gates of Chion-ji Temple. Chion-ji Temple consecrates Monjusri, and it is considered one of the three key sites in Japan for the worship of this deity, so it gets many visitors. Our inn's roots date back to the Kanshichichaya, a teahouse that obtained consent from the temple to do business. Eating the rice cakes served there was said to confer on one the wisdom of Monjusri, and people then and now continue to enjoy these desserts on their visit to Amanohashidate. In 1868, an inn opened in front of Kanshichichaya -- that inn was Taikyourou. Many persons of letters, among them Japanese poets, have come to stay over the years.